Huntingdale Super Saturday
Our Huntingdale Super Saturday Events are ideal for children and people interested in 'Having a crack' at a triathlon!
Click on the link below for all your 2016 Super Saturday results.
http://www.racetecresults.com/Results.aspx?CId=7&RId=541&EId=1
---
Huntingdale Have A Crack Tri
Swim 200m - Bike 8km - Run 2km
Have a Crack Triathlon is open to competitors aged 15 years and up. This event is aimed primarily at adults and young people who are new to the sport and want to "have a crack" at a shorter distance.
Entries will be open closer to the race date
---
Huntingdale Hundy Kids
Hundy Kids events are open to entrants born between 1999 and 2010. We have a range of events for the children this year including aquathlon and triathlon events which will be part of the TQ Nissan State Series
Entries will open closer to the race date.
Wide Bay School Sport Triathlon and Aquathlon Team will be selected from Senior, Intermediate and Junior Triathlon and Junior Aquathlon events
Proudly Sponsored by:
Hervey Bay 100
Hervey Bay, Queensland, Australia
Part of the Triathlon Queensland Nissan State Series
Swim 2km - Ride 80km - Run 18km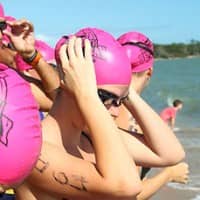 Eloise Beveridge
2015 Competitor
Just want to send a shout out to organizers & volunteers for a brilliant event, run so well, friendly & supportive & perfect for families to join in the fun!