Huntingdale Super Saturday
**2020 updated details to come later**

Our Huntingdale Super Saturday Events get the kids into the Hundy atmosphere, racing in front of big crowds on the big stage. Watch the spectacle of the Kingfisher Bay Resort Barge2Beach swim event also. Junior Events:
Senior(17-19 years 2020) & Intermediate Triathlon (15-16 years 2020) 500/15/4
Junior Triathlon (13-14 years 2020) 300/10/2
Aquathlon (11-12 years 2020) 1/200/1
Mini-Aquathlon 7-10 years 200/50/200
All events must be entered by Friday 22 November 12pm
Chip timing is used for all events except for the Mini-Aquathlon
All events except Mini-Aquathlon are selection events for the Wide Bay & Capricornia School Sport teams
---
Huntingdale Hundy Kids
Hundy Kids events are open to entrants born between 2001 and 2013. We have a range of events for the children this year including aquathlon and triathlon events which will be part of the TQ Nissan State Series
Wide Bay School Sports Triathlon and Aquathlon Team will be selected from Senior, Intermediate and Junior Triathlon and Junior Aquathlon events. Please check age groups carefully, as they are based on entry requirements for the State titles in 2020.
Proudly Sponsored by Huntingdale Woods Estate
Barge2Beach
Hervey Bay, Queensland, Australia
Barge2Beach 2km Swim
The 4th Barge2Beach is happening in 2020!! Registrations in the second half of 2020
Hervey Bay 100 & 50
15 November 2020
Australia's most picturesque long course triathlon with a half option
Swim,Ride,Run 2/80/18km or 1/40/9km Registrations Open 7am 19 May for the Hit50 or 7am 28 May for the Beach House Hotel HB100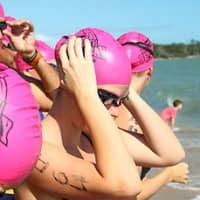 Eloise Beveridge
2015 Competitor
Just want to send a shout out to organizers & volunteers for a brilliant event, run so well, friendly & supportive & perfect for families to join in the fun!