2018 Course
The famous Hervey Bay foreshore provides the perfect natural arena for this spectacular Long Course triathlon. It all takes place a stone's throw from the water's edge between Torquay Beach and Gatakers Bay before finishing back in Scarness Park.
The Scarness foreshore provides the perfect staging point for the Beach House Hotel Hervey Bay 100. The race Expo and registration takes place in Scarness Park at the junction of the Esplanade and Queen's Road, which is also the finish line.
Transition is in the car park adjacent to Scarness Park.
The swim will start 800m East of the race precinct opposite Riveria Resort on the esplanade, down from the Maryborough Sailing Club. Spectators can get an excellent view of the swim and can walk along the beach for the entire length of the swim, keeping their favourite athlete in sight the whole time.
The bike leg utilises a 20km loop of the Esplanade between Torquay and Gatakers Bay. It is here that athletes will encounter the famous "Gatakers Hill". Competitors will complete four laps of this course, which means they will pass through the transition and finish area a total of eight times. This provides excellent viewing opportunities for spectators who can watch the race while visiting any of the numerous shops and eateries within the race precinct.
The Bendigo Community Bank Run Leg is a 6km loop along Hervey Bay's scenic Esplanade pathway between the Hervey Bay Sailing Club at Torquay and Seafront Oval. Competitors will complete three laps of the run course which will take them through the middle of the race expo site and all the club tents a total of six times before crossing the finish line in Scarness Park. The carnival atmosphere of the transition/finish area provides a welcome boost for competitors each time they pass through and there is ample opportunity for spectators to give their family, friends or clubmates a cheer or a sledge. Aid stations are located at the western turn at Seafront oval, near the transition area and near Tavistsock Street towards the eastern end of the run course.
Barge2Beach
Hervey Bay, Queensland, Australia
Barge2Beach 2km Swim
This exciting addition to the Hundy weekend is an ocean swim with a difference. Registrations Open May 2018
Hervey Bay 100
Hervey Bay, Queensland, Australia
Part of the Triathlon Queensland Nissan State Series
Swim 2km - Ride 80km - Run 18km Registrations Open May 2018
Huntingdale Super Saturday
Hervey Bay, Queensland, Australia
Hundy Kids & Have a Crack Tri
Registrations Open May 2018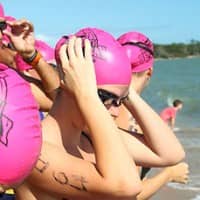 Eloise Beveridge
2015 Competitor
Just want to send a shout out to organizers & volunteers for a brilliant event, run so well, friendly & supportive & perfect for families to join in the fun!